Thank you for contacting South Creek Roofing & Waterproofing Inc., a representative will contact you shortly.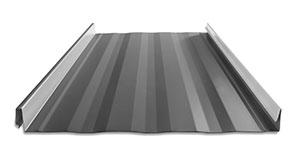 Versa-Span system is a strong, durable, versatile, long length roof panel.
It combines the strength of steel fluted pans and a lock-action rib design. Which together with concealed fasteners, enables installation on low pitched roofs.
Features & Benefits
12? to 18? coverage options available
24 and 22 Tru-Gauge
Floating clip system: allows forexpansion/contraction of panels inlonger lengths
Concealed fasteners: fasteners cannot leak
UL580 Class 90 wind uplift
UL Class A Fire & Impact Rated
ASTM E-1592-Structural uniform static airpressure:ASTM 1646- Water infiltration:ASTM 2140- Water infiltration:ASTM 1680- Air infiltration
Weather tightness warranty available(Contact TMP representative for details)
2:12 minimum pitch recommended: for lowerpitches
Standard panel lengths 2' to 65': for longerpanels
Onsite roll forming available for long lengths
Pan options: Flat pan, Accent ribs, Striations
Retro-fit systems available
Material Specifications
26 gauge Kynar 500 Painted Steel.019? (thickness prior to painting) G-90 Galvanizing or AZ-50
24 gauge Kynar 500 Painted Steel.0236? (thickness prior to painting) G-90 Galvanizing or AZ-50
24 gauge bare Zincalume plus with Clear Acrylic Coating-AZ-55
22 gauge Kynar 500 Painted Steel .029? (thickness prior to painting G-90 Galvanizing or AZ-50: Select colors, see data sheet for details
22g Rusteel (Cold Rolled) Rusteel Plus (A606)
.032 Kynar 500 Painted Aluminum: Select colors, see data sheet for details
16 and 20 ounce Copper
Finishes
19Standard Colors, 5 Metallic Colors and 4 Specialized Colors
Kynar 500 Paint System-the ultimate in exterior durability and color retention
Cool color pigments are specially designed to reflect infrared light, reducing heat gain todwelling, and conform with ENERGY STAR criteria
Superior quality, two-coat, 70% resin finish, applied at a 1 mil. thickness
40-year residential paint warranty
20 and 30 year commercial paint warranty:(Contact TMP for warranty specifications)
Colors
Standard Cool Armour Tech SMP Colors